Here are multiple reviews for the Neo Geo CD video game, Last Blade 2:
Score: 10 out of 10
This game is also a game I would like to give a duble "SCRIFF",and if you don't think so I'll give you a "NOOOOOOOOOOOOOOOOOO." (Richard Ladd, United States)
Score: 10 out of 10
Other than the eternal load times, Last Blade 2 is simply the best 2d fighter ever made. The graphics are some of the finest anime characters ever and the music is outstanding and fits perfect. The controls are well tweaked, (you really need a stick though), and the in game speed is amazing. If you don't own a Neo Geo CD, get one for this game, it will be the next Dracula X. (Jason, United States)
Score: 9 out of 10
Last Blade 2 is awesome. Though the CD price can be a bit hefty at some retailers, I highly recommend this game as it plays great and looks and moves amazingly. Damn load times are the worst ever on the Neo CD. (Mickey Thompson, Mississippi)
Score: 10 out of 10
This is a great fighting game. No questions asked. I highly recommend it. (Joey Robertson, Canada)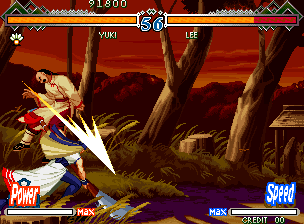 ---
For additional support and discussions, visit the dedicated Neo Geo CD Forum.