Here are multiple reviews for the Neo Geo CD video game, Samurai Shodown IV: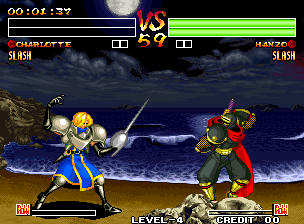 Score: 10 out of 10
This is a very good side to side fighting game. The graphics and colors are wonderful and the music is absolutely lovely. Gameplay is rich with loads of techniques and combos to execute. I highly recommend the CD version even if there are those bloody load times. Do buy. (Xed Blaizer, United Kingdom)
Score: 10 out of 10
Weapons based fighters do not get any better than this. I love each of the Samurai Shodown games, as each is unique with different stages, characters and general feel. Every Neo Geo CD owner must have this game. Sound, graphics, controls, all superb. (Lee Pantalone, Baltimore)
Score: 10 out of 10
Yeah, this is where it's at. SS4 is the Neo Geo fighting game. Lots of red blood and shit, just kicks ass. (Joey Higashi, United States)
Score: 10 out of 10
I would like to say that it is a game would give a "SCRIFF with CHEESE" (Richard Ladd, United States)
Score: 20 out of 10
This game is totally crazy, very flashy blood and guts. I high recommend this game because it really maniac fun!! buy now! (Gigantic Man, Sweden)
Score: 10 out of 10
The best game I ever seen before ın Neo-Geo! (Mert, Istanbul)
---
For additional support and discussions, visit the dedicated Neo Geo CD Forum.