Here are multiple reviews for the Neo Geo CD video game, Metal Slug 2:
Score: 10 out of 10
Even though I haven't played it I know its good. I've played all the metal slugs after it though, and know if the later ones rule then the first one and second one have to rock. You want to know what the best of the metal slug series is?!? Metal Slug 3 yeahhhhhh!!! I got metal slug for my neo geo pocket colo1r (they don't sell in America anymore, Bummer) and it rules. Every metal Slug game is awesome and everyone should play it. (Nate, Washington)
Score: 10 out of 10
Are there words for this game? NO. This game is really one of the best games I know. The first time I played it was in an Arcade. I had never played a game as great as this one. At the moment I'm searching for the game to buy for the Playstation. But can't find it in The Netherlands. A pity, I would have liked to play it on my Playstation. (Frank Bond, Netherlands)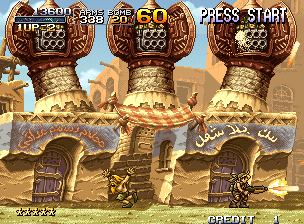 Score: 7 out of 10
As with all the Metal Slug games, I love it. however, it being a war game, I wish they would not insert supernatural or make-believe characters/enemies such as zombies. Still highly recommended. (Joey Robertson, Canada)
Score: 10 out of 10
Brilliant! Blast from the past! (Emily Zyborgs, Iceland)
---
For additional support and discussions, visit the dedicated Neo Geo CD Forum.