Here are multiple reviews for the Neo Geo CD video game, Metal Slug: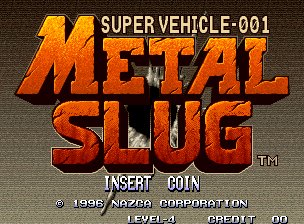 Score: 8 out of 10
The original Metal Slug is one of the hardest games to find for the Neo Geo CD, and the American copy is even more rare…AND I OWN IT!!! HAHA. Ok so I'm going to do a little breakdown of what the CD version offers. For one the load times aren't bad at all between all the levels. There isn't any mid-level load times like in M2 and there is no cuts of animation from the arcade version (like there was in Last Blade 2). There's an art gallery (YES!!!) and an awesome little combat school mode that adds infinite hours of replay to this otherwise short game. Better than the cart and arcade versions! It's a little too easy to get through in arcade mode though, and becomes a little redundant after a while. Get this before you get M2. (K'9999 O'yeah, Arcadia)
Score: 9 out of 10
This game is my second favorite of the series. I am happy that the game consists of military enemies instead of zombies and stuff. The graphics and animations are great, and I feel the legacy should continue. The GamePlay is great, and you get used to the controls quickly. Bosses can be hard, and with this much action, a game is considered a masterpiece. And that's what it is. (Joey Robertson, Canada)
Score: 10 out of 10
Metal Slug! Blau! jump, weave, BLAU! BLAU! BLAU!…i feel ten years younger…BLAU! (Jace Blunden, Australia)
Score: 10 out of 10
It's great! (Daniel, Louisiana)
Score: 10 out of 10
Julio Andres Riz Martinez (Mexico)
Score: 10 out of 10
Jesus Tobon Villar (Mexico)
---
For additional support and discussions, visit the dedicated Neo Geo CD Forum.